Silence of Country Living
Tradition ran deep in the small farming community of New Albany, Ohio. I always thought that some things would never change. I would start out by driving to school with my sister, who drove an old Oldsmobile. We would find a parking spot in big rocks amongst the outer rusty cars and pick up trucks, and make our way into the school. The school stood strong like a big steel barn in the middle of town. A large cut out of our eagle mascot was bolted to the side, for everyone to see. Our mom an dad attended this same school, years ago. We would go from class to class with the sons and daughters of our parents generation. Most of our classes were taught by the same teachers of thirty years ago. Everybody knew everyone.
Physical education was my favorite, because we got to play baseball on the same field our fathers did. Dad would always tell me about the home runs he used to hit there. After the school was over,we would go home, and await the evening's football game. I would pass my time playing in the yard, all the while enjoying the natural silence of country living. Occasionally a car would pass, it was an odd occurrence not to know who it was.
Later on that night ever one would file into the line at the ticket booth, for the home game Parents and grandparents,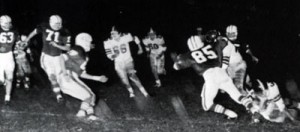 New Albany alumni, nested in the bleachers. All of the kids played in the grass be hind them, dreaming of being cheerleaders and football stars. The volunteer fire department, along with few local police officers, kept us in line Our heroes the home team would run from the locker room. We would slap them on the shoulder pads, and would wish them good luck. After about a half hour of cheering and yelling at the referee, halftime was here.
The high school history teacher manned the grill, brats and hot dogs, while the band played. After a good ribbing by the coach the team came back to win it, and the victory bell rang. If we only knew that times like that would soon be no more. It seemed like over night a dark cloud of change rained on our parade of tradition.
Acre after acre of fields were covered with the ugly sight of brick faced mansions, that all seemed to look the same. These mansions were inhabited with minds that paid no attention to tradition, and only wanted change, to suit their selfish souls. When enough homes were built , the democracy swayed, not to the few farmers, but to many new comers. Our once towering school was leveled to the ground, along with the old ball fields. B.M.W.s and Lexus's took the place of old cars an pick up trucks,in the parking lots.The natural silence of country living is drowned out, by the hum of tires on the freeway nearby.
Soon overwhelming taxes would drive out the property owners, and developments would take their place. I have been out of school for years now, and nothing seems the same. Not long ago the last remaining symbol of what used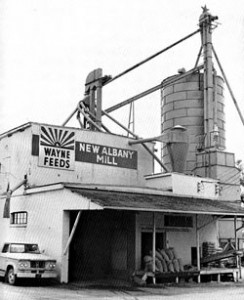 to be, was taken from us. The towns feed mill, who tried to keep up with change, closed their doors for good the mill was situated in the center of town an often stood as a landmark for those who passed by.
A ounce calm country town is now a bustling metropolis. What was at one time a two lane road is now a six lane highway. Most of the old folks have moved away, to places that resemble what used to be. A very small number of people remain, some even try to fit in. Small towns just like ours are constantly being overwhelmed by money, and progress.
Sometimes I run into people I used to know, and share memories of the past. Its good to know sometimes I am not alone. Sometimes when I am out in the country, I see glimmer of lights in the distance. The glimmer of lights is football field and I go back in time. Times were a lot different back then.
I have been hardened by my experiences. We will always endure change, and traditions will always become broken. I will always at all cost do anything to keep tradition alive. Without tradition we have no memories or nothing to pass on to generations yet to come.
By:

Nathan Murphy